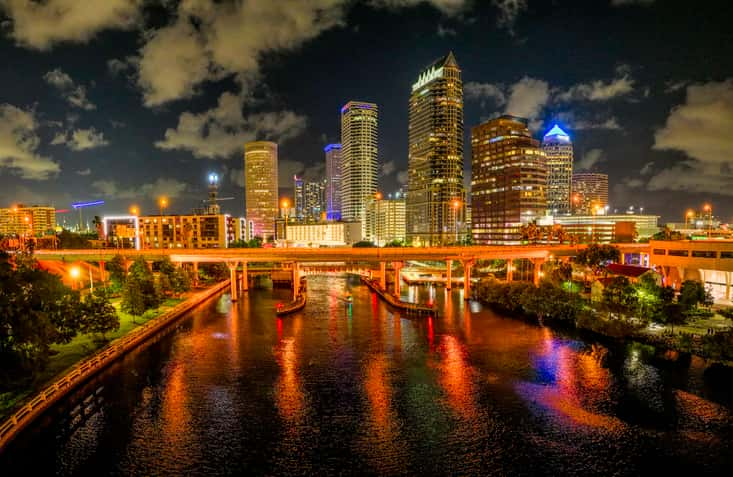 The Ultimate Weekend Guide for Visiting Tampa, Florida
The Ultimate Weekend Guide for Visiting Tampa, Florida
Are you ready for an unforgettable weekend adventure in the Sunshine State? Look no further than Tampa, Florida! Nestled on the scenic Gulf Coast, Tampa is a vibrant city brimming with culture, history, and a dash of that famous Florida sunshine. Whether you're a history buff, a foodie, a thrill-seeker, or you're looking for family-friendly fun, this city has something for everyone. In this ultimate weekend guide, we're going to take you on a whirlwind tour of Tampa's top attractions, hidden gems, and mouthwatering dining spots, ensuring that your weekend getaway is nothing short of spectacular. So, grab your sunglasses and sunscreen, because Tampa Bay is calling your name, and we're about to show you how to make the most of your time in the city!
Know Before You Go
Before you set off on your Tampa adventure, there are a few things you should know to make your trip smooth and enjoyable. First and foremost, let's talk weather. Much like other Floridian cities, Tampa boasts a subtropical climate that generally boasts warm temperatures throughout the year. Summers can get hot and humid, so hydration is an important focus when visiting during the season, while winters are much milder and may require long sleeves and jackets. Additionally, it's important to pack comfortable clothing for the activities you're planning, whether those are daytime explorations, evenings out on the town, or trips out to the lovely Gulf beaches.
The Tampa International Airport is the most convenient way into the city if arriving by plane. Once you land, unless you plan to stay in more central areas like Downtown Tampa, you may want to consider navigating Tampa by car. Renting a car is a popular choice for visitors to the city, but Ubers, Lyfts, and Taxis are plentiful. Tampa's buses, trolleys, and streetcar systems also connect many of the downtown attractions.
Where to Stay
When it comes to accommodations, Tampa offers a variety of options to suit your preferences. If you want to be in the heart of the action, Downtown Tampa is the place to be. You'll find upscale hotels with stunning views of the waterfront, along with easy access to main attractions and up-and-coming areas. Staying downtown puts you within walking distance of numerous restaurants and bars, making it a convenient choice for those who love the city's nightlife.
For a unique and historic atmosphere, consider booking a stay in Ybor City. This historic neighborhood is known for its charming streets, vibrant nightlife, and rich cigar-making history. You'll find boutique hotels and cozy bed-and-breakfasts that offer a taste of Tampa's past while keeping you close to contemporary attractions.
If you prefer a suburban feel while still being close to the city's main attractions, South Tampa is an excellent choice. It offers a mix of chain hotels and locally-owned accommodations, making it a great option for families or those seeking a quieter atmosphere. You'll also be near the beautiful Bayshore Boulevard for leisurely strolls.
If you're seeking a vibrant experience in a modern environment, check out Midtown Tampa. This dynamic district is a recent addition to the city and has become a hotspot for shopping, dining, and entertainment. Here, you'll discover a variety of restaurants, boutiques, and recreational spaces. Whether you fancy a gourmet meal, a shopping spree, or a relaxing afternoon in a chic park, Midtown Tampa offers it all. Staying here places you in the midst of Tampa's newest developments, with convenient access to several of Tampa's iconic attractions.
With the right lodging choice, your Tampa weekend getaway will be off to a fantastic start. Now, let's dive into the exciting world of Tampa's top attractions and activities for an unforgettable weekend in this tropical paradise!
What to Do and Where to Eat in Tampa
Tampa's Famous Riverwalk
Begin your Tampa adventure with a stroll along the Riverwalk, a scenic path that winds alongside the Hillsborough River. It's a perfect way to soak up the city's energetic atmosphere and enjoy beautiful views. Consider renting a scooter or bicycle for a fun and convenient way to explore this area. The Riverwalk stretches from the Convention Center area, where you can find trendy upscale spots on Water Street, through to the Curtis Hixon Waterfront Park. Here, you can relax by the fountains which kids love to splash in, and stop by the Glazer Children's Museum. Finally, two of Tampa's best food halls are situated on the upper and lower ends of the Riverwalk: Sparkman's Wharf and Armature Works.
Midtown Tampa
In the Midtown Tampa area, you can find all sorts of gems for shopping, dining, and entertainment. Among its culinary gems is Colony Grill, a definite must-visit. This classic restaurant is renowned for its bar pies, which are thin light, crispy, and delicious thin-crust pizzas. If you like a slice with a kick, be sure to try Colony's hot oil pizza, which is the restaurant's flavorful signature topping.
Tampa Bay's Rich History
If you're interested in history, head to the harbor area to explore the American Victory Ship and other fascinating museums, such as the Tampa Bay History Center. These attractions provide a glimpse into Tampa's maritime past and regional history. Afterward, you can also find local historic gems at the University of Tampa's Henry B. Plant Museum.
Ybor City's Cuban Flavor
Dive into the heart of Cuban culture in Ybor City. This historic neighborhood is famous for its cigar-making heritage, coffee shops, art galleries, and vibrant nightlife. Explore the cobblestone streets, indulge in Cuban cuisine, and immerse yourself in the rich cultural scene.
Adventure and Entertainment
If you're seeking an active day of fun and excitement, Tampa has you covered. Visit Busch Gardens for some of the most thrilling rides in the country and amazing animal encounters, or explore the wonders of wildlife at ZooTampa and the Florida Aquarium. If your idea of fun includes more of a spectacle, you can watch a show or catch a game at the city's two biggest stadiums: the Amalie Arena and the Raymond James Stadium, which are home to the Tampa Bay Lightning hockey team and the Tampa Bay Buccaneers football team.
Hyde Park and Bayshore
For a peaceful evening or a bright morning brunch, visit Hyde Park Village. It is a picturesque area to walk around in, where you can find lovely shops and restaurants. After your meal, you can also take a stroll along Bayshore Boulevard, known for its beautiful waterfront views.
Get ready for an amazing weekend in Tampa, Florida, where culture, history, fun, and plenty of sunshine are waiting! As you explore the city's charming neighborhoods, including classic Ybor City and the exciting Riverwalk area, you'll have the opportunity to create lasting memories. No matter which activities you choose to do, our guide will be a great place to start when planning your trip. So, pack your bags, put on your shades, and get ready for unforgettable moments in this sunny Florida paradise!
Colony Grill is proud to be a part of the Tampa Bay Area. Visit us at Midtown for our famous hot oil pizza!