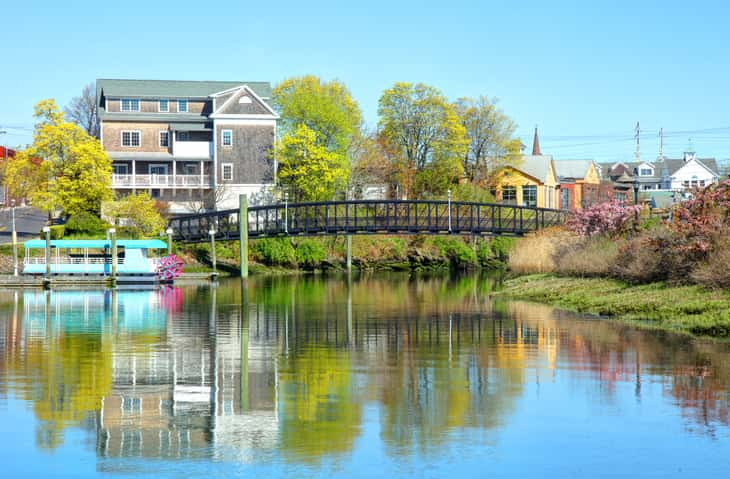 Experience Milford, CT: The Complete Visitor's Guide
Experience Milford, CT: The Complete Visitor's Guide
Experience Milford, Connecticut: The Complete Visitor's Guide
Nestled along the picturesque shores of Long Island Sound, Milford, Connecticut, offers a delightful blend of coastal charm, historical significance, and natural beauty all within a relaxed and friendly atmosphere. Whether you're seeking cultural exploration, an outdoor adventure, or a serene beach vacation, Milford has something for everyone. Join us as we take you through a comprehensive guide to experiencing the best of Milford.
Explore Silver Sands State Park
Kick off your Milford adventure at Silver Sands State Park, a true gem for beach lovers and nature enthusiasts alike. This expansive park boasts a pristine shoreline, scenic walking trails, and an iconic 0.9-mile boardwalk that winds through a serene salt marsh. The boardwalk leads to Charles Island, a natural treasure accessible by a sandbar. Take a walk to the island and delve into its intriguing history, ecological significance, and breathtaking vistas. However, remember to keep an eye on tide times when planning your visit. The sandbar connecting the island is only accessible during low tide, so plan your visit accordingly to ensure a safe and enjoyable experience.
Shopping, Dining, and Culture at Milford's Downtown District
Next, take a stroll troll through Downtown Milford's charming streets. The area is filled with historic buildings, boutiques, art galleries, and a diverse array of eateries. Indulge in retail therapy at one-of-a-kind shops offering handcrafted items and unique finds. From June to October, you can also experience the Downtown's annual Farmer's Market which boasts food trucks and local eats, entertainment and art, and special events. There is truly something for everyone to find all year round!
Relax at Milford Green
After you've explored the enchanting Downtown district, treat yourself to a moment of relaxation at Milford Green. It is a picturesque, sprawling town green that ranks as New England's second-longest. This exquisite park provides an ideal setting for a peaceful afternoon. If your appetite calls, make your way to Colony Grill, a beloved local establishment conveniently situated at the edge of the green. Don't miss out on savoring Colony's renowned "Bar Pies" – they're the perfect choice to bring over to the park for a nice picnic!
Coastal Center at Milford Point: A Haven for Nature Enthusiasts
Immerse yourself in Milford's rich natural heritage at the Coastal Center at Milford Point. Managed by the Connecticut Audubon Society, this nature center is a haven for birdwatchers and anyone interested in coastal ecology. Explore walking trails that wind through salt marshes and observe the diverse bird species that fly from tree to tree. Additionally, you can gain insights into the region's delicate ecosystem through the educational programs they offer.
Milford Harbor's Maritime Magic
With its full-service marina, Milford Harbor beckons maritime enthusiasts with its charming atmosphere and nautical allure. Watch boats sail by, enjoy waterfront dining with a view, or consider embarking on a harbor cruise for a unique perspective of Milford's coastline.
Soak Up the Sun at Walnut Beach
Tucked away on Milford's shores, Walnut Beach offers a serene seaside escape. You can sunbathe on soft sands, spend the day fishing at the pier, explore the boardwalk, and enjoy the beautiful art installations and murals that dot the area. This charming beach is a local gem that fosters a strong sense of community and draws both visitors and residents for shared experiences. Look out for events held at Walnut Beach throughout the year, like yoga classes and outdoor concerts.
Annual Events and Festivities
Keep your calendar marked for Milford's vibrant annual events. From the Oyster Festival celebrating the town's maritime heritage to the Food Truck Festival tantalizing taste buds, there's always something happening in Milford. Don't miss the arts and crafts fairs, music festivals, and other special community gatherings that showcase the town's lively spirit.
Bonus: Important Things To Know
When planning your visit to Milford, CT, there are a few practical matters to keep in mind so your trip goes smoothly!
Transportation
If you're arriving by plane, the nearest major airports are Bradley International Airport (BDL) in Hartford and John F. Kennedy International Airport (JFK) in New York. However, Milford is easily accessible if you are driving- it is located right off Interstate 95. In general, the city is very convenient to explore by car. Parking is also relatively manageable, although popular areas may have more difficult parking situations during peak times (so aim for early arrivals). Destinations like Silver Sands State Park and Downtown Milford are notably busy ones. Finally, a great way to get around the city is by biking! It's a great way to get a personal feel of the coastal town's energy, and it makes it easy to get to know the neighborhoods.
Weather
Milford experiences a typical New England climate with four distinct seasons. Summers (June to August) are warm and humid, while winters (December to February) can be cold and snowy. Spring and fall offer milder, more pleasant temperatures. Therefore, these seasons may offer more favorable conditions for the city exploration and outdoor activities you might do during your visit.
Natural Reserves
Finally, if you're visiting natural areas like Silver Sands State Park and the Coastal Center at Milford Point, be mindful of preserving the ecosystem. Stay on designated paths, avoid disturbing wildlife, and follow Leave No Trace principles. Following all the signage and rules that are posted is essential to keep these areas clean, healthy, and thriving!
Milford, Connecticut, invites you to explore its pristine beaches, embrace its history, and immerse yourself in its natural wonders. From the tranquility of Silver Sands State Park to the charm of Downtown Milford, this coastal haven promises a memorable getaway for visitors of all ages. So pack your bags, embark on an adventure, and Experience Milford at its finest. Your journey awaits!